Within the gaming community, all eyes are currently on Google ahead of the launch of their highly anticipated online gaming streaming service – Stadia. With the release date set for 19th November, the jury is still out on whether Google Stadia is about to revolutionise online gaming, or headed for an unfortunate flop.
But whilst gamers patiently wait for the streaming service to go live, we have been compiling everything you need to know about Google Stadia and, most importantly, whether or not standard broadband providers are up to the task of streaming online games.
What is Google Stadia?
In a nutshell, Stadia is Google's answer to the likes of Xbox and PS4. However, instead of requiring a console to play online, Stadia has the unique edge of being completely console-less. Video games are streamed live, rather than downloaded.
In theory, Stadia can be used on any device connected to the internet. For desktop devices, a Google Chrome browser must be used, whilst those hoping to play on their TV must use the Chromecast Ultra dongle supplied with the pre-ordered Founders and Premiere Edition. Currently, existing Chromecasts will not be compatible, although Google have claimed that they will be updating them soon.
Unfortunately, at launch Google Stadia will only be available on Pixel mobile phones – iPhone and other Android users are out of luck for now.
The "Netflix of gaming"?
As a subscription service, Stadia has been hailed as the "Netflix of gaming". However, this isn't a strictly accurate claim.
Whilst users will pay a monthly subscription to access Stadia Pro, which includes a select amount of free games, additional fees will incur for the use of most games. With Netflix on the other hand, the streaming of all movies and boxsets is included in the monthly fee.
If you were to cancel your Stadia Pro subscription, you would lose access to all games on the platform – including the ones you have previously paid for. However, if you re-joined the service at a later date, you be able to regain the games you had previously bought at no extra cost.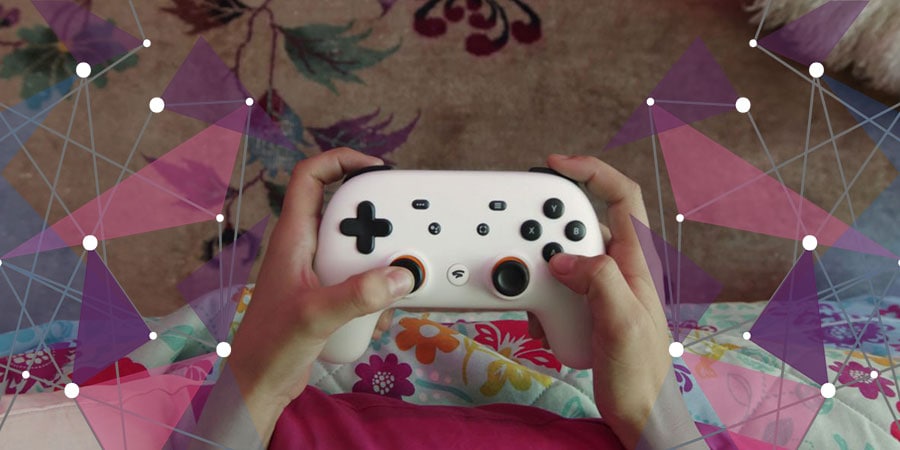 How much does Google Stadia cost?
At Google Stadia's November launch, only those who have pre-ordered the Founder's or Premiere Edition will initially be able to play.
At £119, the Founder's Edition includes:
A three-month subscription to Stadia Pro
A limited-edition controller in Night Blue
A Chromecast Ultra
A "Buddy Pass" which allows you to share a second three-month subscription with a friend
Following the initial three-months, a subscription to the Pro service will cost £8.99 per month. Although developers have announced the roll out of a free model called Stadia Base in 2020, at launch Stadia Pro will be the only way to use the platform.
Whilst the Pro subscription offers access to games in 4K Ultra HD with 5.1 surround sound, Stadia Base only offers 1080p gameplay, with stereo sound.
As we mentioned above, whilst some games are free, most will require an additional payment. Although Google have not yet confirmed individual game costs, for now we can speculate that they will not be too costly, in order to remain within the same price bracket as potential competitors.
It should also be noted that the "buddy passes" have been associated with some controversy: although advertised as a pre-order perk, Google have now announced that they will not be distributed until a few weeks after the initial launch.
What games are available on Stadia?
Initially, Google only announced 12 games that would be available to play immediately on launch day. These were:
Assassin's Creed Odyssey
Destiny 2: The Collection
GYLT
Just Dance 2020
Kine
Mortal Kombat 11
Red Dead Redemption 2
Rise of the Tomb Raider
Thumper
Tomb Raider: Definitive Edition
Samurai Shodown
Shadow of the Tomb Raider: Definitive Edition
However, just one day before launch, producers added another 10 titles to the list, all of which will be available at launch:
Attack on Titan: Final Battle 2
Farming Simulator 2019
Final Fantasy XV
Football Manager 2020
GRID
Metro Exodus
NBA 2K20
Rage 2
Trials Rising
Wolfenstein: Youngblood
The addition of a host more launch games, including sports titles, will undoubtedly stir up extra demand for Stadia.
As well as the initial launch games, a number of additional titles are set to be available before the end of 2019, including Dragon Ball Xenoverse 2 and Borderlands 3. However, a concrete launch date has not yet been confirmed by Google for these games.
Who is the competition for Google Stadia?
Although the first to offer truly console-less gaming after the unfortunate failure of OnLive, Stadia is admittedly not the first game streaming service, nor the first gaming subscription available.
Microsoft have seen success with their own game subscription service: Xbox Game Pass. Priced at £7.99 a month (with a month-long trial for just £1), subscribers have access to around 350 titles. All of the games available can be downloaded and played later.
Sony also offer a popular game streaming service entitled PlayStation Now, through which users have unlimited access to over 700 games, that can either be streamed or, in some cases, downloaded for offline use – something not catered for with Google Stadia.
Whilst neither Game Pass nor PS Now offer a free version, as there soon will be with Stadia, a PS Now standard monthly subscription is slightly more expensive than Xbox Game Pass at £8.99, although up-front discounts are available.
Google may find it tricky to convince gamers who have already invested in a PlayStation or Xbox console to make the move to Stadia – especially as they have access to unlimited games at no extra cost with both alternative gaming subscription services.
Perhaps in even stiffer competition with Stadia is Microsoft's hotly anticipated Project xCloud, another play-anywhere game streaming service, serving as an addition to Xbox Game Pass. As with Stadia, Project xCloud will be console-less, just requiring a compatible device and a subscription (and a sufficient internet connection, of course).
Although Google has the edge on an earlier release, with only a select few currently trialling the service and no official launch date as of yet, Microsoft believes that the back catalogue of over 3,000 Xbox games will give Project xCloud a favourable lead.
Industry commentators will undoubtedly be keenly waiting to see how Microsoft will respond to the launch of Google Stadia.
Best broadband for online game streaming
One of the primary concerns currently surrounding online video game streaming is the quality of gameplay, and the broadband service required. Although Google are marketing Stadia as providing console-level quality, this will be entirely dependent on the quality of your internet connection
Google have confirmed that the minimum download speed required for streaming video games through Stadia is 10Mbps, which will provide 720p gameplay, with 20Mbps allowing for 1080p.
However, in order to achieve the best gaming experiencing through Stadia, Google have recommended 35Mbps as the optimum broadband download speed, which allows users to stream in 4K video.
These recommended speeds indicate that any gamers with a traditional copper ADSL broadband connection will struggle when it comes to playing video games via Stadia. Although some are faster, most ISPs advertise ADSL as offering up to 8Mbps – less than the minimum Stadia requirements.
Instead, where possible, gamers will have to upgrade to a fibre-optic broadband connection – be it FTTC or FTTP.
It's also vital to note that consistency is key when it comes to streaming. ISPs typically offer broadband as being up to a certain speed, but you will need your connection to consistently reach the recommended minimum/optimum download speed in order to play properly without lag.
Preventing lag when steaming video games
Latency/ lag is the enemy of cloud-based gaming – imagine shooting a perfectly aimed shot, only to miss because of slow server response times.
However, Google believe that latency, measured by Ping rates, need not be a worry with Stadia. Although Stadia can be used with any games controller, developers have claimed that using the dedicated Google controller, which is directly connected to Google servers, will reduce ping rates and therefore prevent lag.
It is worth noting that Google are one of the largest tech corporations in the world, with a multitude of servers, which will significantly reduce latency.
Commentators have also speculated that Google will fulfil their bold claims of 'negative latency' by anticipating player's moves and sending the data to the server ahead of time, therefore minimised the perceived response time.
Understandably, a predictive model has come under much criticism as many feel that this removes the control over how the game plays out from the gamer – defeating the point of online gaming.
Dedicated gaming broadband for Stadia
Those patiently waiting for the Stadia launch are well advised to consider upgrading to a dedicated gaming broadband provider, specifically designed to cater for the unique internet requirements needed by gamers.
At Ghost Gamer Broadband, our specialist network has direct links with gaming services, including Google, which will effectively reduce ping rates, preventing lag – improving your in-game performance.
We also don't place caps on our customer's data usage, which is of huge benefit with streaming services such as Stadia. It has been pointed out that streaming Stadia games in 4K will use up an astronomical 1TB of data within 65 hours. If your ISP enforces a cap on data usage, you could either find that your connection is throttled once you exceed the limit, or you are dumped with a hefty fine – both of which you will ideally want to avoid.
Our network is also impressively resilient, preventing any potential user downtime. We are connected via multiple fibre circuits – if one were to fail, you would be seamlessly transferred to another, with negligible impact on your gameplay.
For more updates, news and speculation around Google Stadia, be sure to follow us on Twitter ahead of the launch.